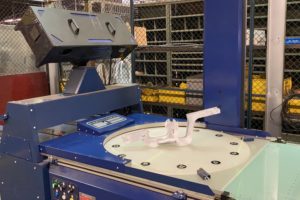 Sheet metal forming is a manufacturing process that modifies the geometric shape of sheet metal without removing any material. It is used to create a wide range of parts and products for various industries, including those with strict precision and accuracy standards. As customers demand tighter tolerances, better consistency, and higher overall quality in their components, sheet metal fabricators must invest in more advanced control tools and technologies for their operations to remain competitive. For this reason, many employ the use of computer-controlled manufacturing and inspection systems to ensure their finished parts and products fully meet customer and industry requirements.
How US Metal Crafters Assures Quality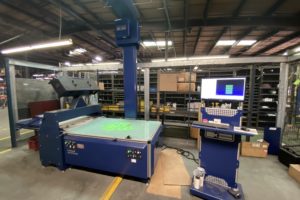 At US Metal Crafters, we are fully committed to ensuring the quality of our products and processes. As such, we employ the use of a 3D inspection system—InspecVision's Opti-Scan 3D—to verify our finished components meet all applicable customer and industry standards.
This 3D scanning inspection unit features an LED digital light processing (DLP) projector and a high-speed, high-resolution camera to scan the surfaces and edges of an object in three dimensions. It works by using the projector to cast patterns of light onto the component, which are then detected and recorded by the camera to establish the surface measurements.
In addition to offering accurate measurement of three-dimensional surfaces AND edges, key features of this 3D scanning inspection system include: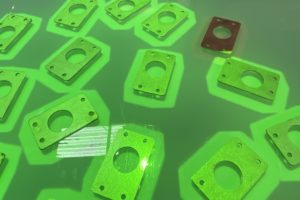 Single-click inspection: This unit features a rotational table and tilting mechanism. This component enables all visible surfaces of an object to be scanned, which allows for more accurate measurement. Additionally, it readily accommodates automated inspection operations as objects can be scanned with a click of a button or scan of a bar code.

Mobile Large Volume 3D Scanning: By placing the scanning head on a tripod, industry professionals can use the unit as a portable 3D scanner. This configuration allows for the measurement of objects in any size, ranging from small to extremely large.
Benefits of 3D Scanning Inspection Systems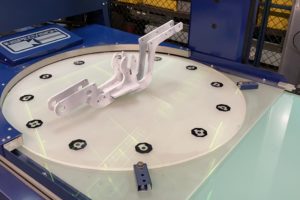 Compared to other inspection technologies, 3D scanning units offer several advantages, including:
Better measurement accuracy

Greater reliability

Faster processing speeds

Broader flexibility and versatility

Easier usage requirements
For these reasons, they are used for the inspection of a variety of manufactured goods—including complex parts and soft/delicate materials—in the facility and in the field.  
Quality Assurance in the Sheet Metal Industry
Unlike quality control (QC), quality assurance (QA) focuses on preventing issues during manufacturing operations rather than identifying them after they occur. By evaluating existing processes, detecting pain points, and implementing appropriate solutions, industry professionals can minimize the risk of error, which, ultimately, results in better part and process quality. Additionally, any issues discovered can be carefully documented for future reference to ensure they do not reoccur.
One of the most common QA techniques is a quality audit. These inspections generally occur at predetermined intervals during a project (e.g., weekly, monthly, etc.). They are used to determine whether the project complies with the quality standards defined in the initial project plan. If not, measures can be implemented to push the project back on track.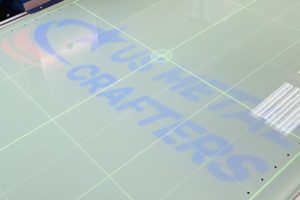 For sheet metal fabricators—as well as other industrial and commercial manufacturers—implementing QA measures into their manufacturing, construction, or installation operations can result in significant cost savings by reducing the amount of material wasted and/or time lost due to production delays. Additionally, as the overall quality of products and services is generally improved, customers are more likely to be satisfied with their investment and, consequently, return to the company for future projects.   
Quality Metal Fabrication Solutions at US Metal Crafters
In the manufacturing sector, quality is critical to the success of products and the satisfaction of customers. By implementing comprehensive quality control and quality assurance programs, manufacturers can better ensure their parts and processes meet higher standards, resulting in more effective and efficient operations.
At US Metal Crafters, we utilize 3D inspection technology to help us achieve better quality in our metal fabrication solutions. For additional information about our metal fabrication capabilities and how we implement quality assurance measures, contact us today.