US Metal Crafters has been in the sheet metal stamping industry for decades. Our experienced technicians and operators use a variety of machines and computer programs to ensure the highest quality stamped products at competitive pricing. When creating sheet metal stamping dies, we use computer software to map out the entire cutting and stamping process from start to finish.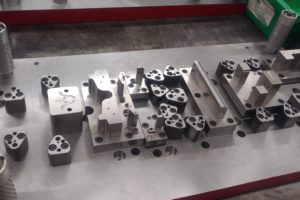 We offer a variety of stamping dies suitable for creating components for many applications. Our sophisticated quality assurance optical inspection equipment ensures that our customers' components meet their exact specifications. We specialize in progressive die stamping, allowing for a rapid rate of production for all stamped metal parts from simple springs to the most sophisticated components for machinery.
Uses of Metal Stamping Dies
Metal stamping is the formative process of contouring and shaping a workpiece of sheet metal between a punch and a die. Metal stamping dies are the tooling attached to a stamping tool. They manipulate the workpiece and provide the backbone against which the workpiece is formed when the punch applies pressure. Unlike other bending processes, stamping relieves internal pressure in the metal so that there is no spring back or deformation after stamping.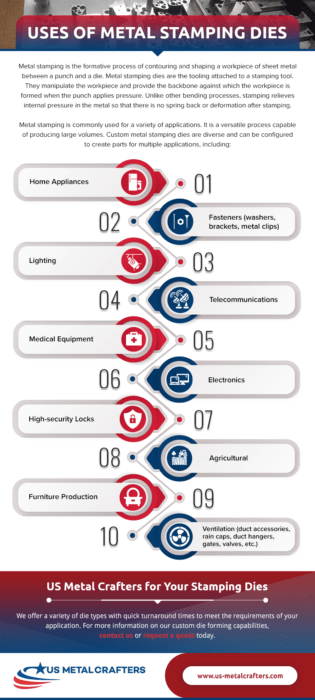 Metal stamping is commonly used for a variety of applications. It is a versatile process capable of producing large volumes. Custom metal stamping dies are diverse and can be configured to create parts for multiple applications, including:
Home Appliances
Fasteners (washers, brackets, metal clips)
Lighting
Telecommunications
Medical Equipment
Electronics
High-security Locks
Agricultural
Furniture production
Ventilation (duct accessories, rain caps, duct hangers, gates, valves, etc.)
Due to the repeatability, durability, and precision of metal stamped components, metal stamping is also ideal for the automotive and medical industries where performance is crucial.
Different Types of Stamping Dies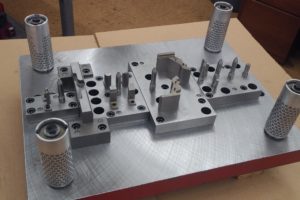 There is a diverse range of die types used for metal stamping, each of which perform different operations, such as cutting, trimming, notching, blanking, piercing, lancing, and shearing. Types of stamping dies include:
Blanking dies
Compound dies
Forming dies
Coining dies
Progressive dies
Progressive dies offer many benefits when compared to other die types as they allow for high production volumes. The progressive die stamping process is capable of performing multiple cutting and forming operations at once and can quickly produce accurate and consistent parts.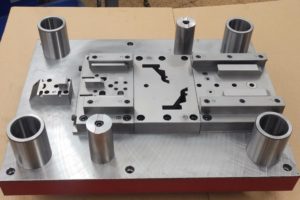 US Metal Crafters offers many unique features to remain competitive within the industry, such as:
Full die design and development for unrivaled personalized production
Sharpening and maintaining tools to ensure consistency and design accuracy
EDM and CNC machining for the tightest tolerances on the market
Reverse engineering and diagnostics to ensure quick fixes when production errors arise, no unexpected delays, and smoother production
Solidworks and LogoPress software
Competitive pricing
Rapid production and delivery
Professional, streamlined experience from start to finish for every customer
Secondary operations, laser cutting, bending, forming, welding, and more
US Metal Crafters for Your Stamping Dies
US Metal Crafters has one of the most complete die shops in the southeast and is able to suit your die requirements from initial design to maintenance and repairs. We offer a variety of die types with quick turnaround times to meet the requirements of your application. For more information on our custom die forming capabilities, contact us or request a quote today.