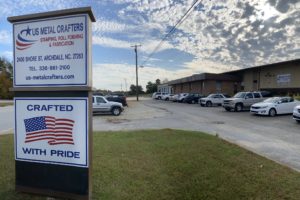 Careers at US Metal Crafters
US Metal Crafters, sister company of US Duct, is a rapidly growing organization with an expansive service offering.
Our diverse services provide us with a unique ability to offer a broad range of job opportunities in our manufacturing and office teams.
We believe in personal growth, training, and Flow- don't worry, you'll learn what Flow means when you join USMC.  Our employees are committed to setting and achieving their goals- both professional and personal. If you're a go-getter looking for an organization committed to your growth, you just might have found your place.
We look for individuals who:
Have a track record of winning!
Are self-directed and self-motivated
Work seamlessly as part of a larger group
Are lifelong, voracious learners
Have some solid work history
Are personally invested in quality of work, timeliness of service, and goal setting
Are driven to be better than they were yesterday
We offer:
401(k) Plan, Dental, Vision & Health insurance for all full-time employees
Paid time off
Comprehensive training
Competitive compensation
Off-site and on-site company events, including our annual famous Chicken Stew & Holiday Steak Dinner
Job Openings:
Current openings are posted with US Enhanced Personnel. Please visit their website or contact 336-897-3572 for more information.