1 Comment
US Metal Crafters serves a wide range of metal component requirements, from design to production and finishing, all under one roof. One of the services we offer that is growing in demand is powder coating. Since this has become such an in-demand service for our clients in various industries such as agriculture, HVAC, automotive, construction, home appliance, outdoor equipment, and more, we want to take an opportunity to talk more about it in this blog.
What is Powder Coating?
Powder coating is a dry finishing process that is rapidly becoming more popular in the industrial finishing market. During the powder coating process, we apply a free-flowing polymer resin powder to the surface of the component. It is then cured to form a smooth, hard coating that is both protective and decorative, depending on the exact powder formulation used.
While powder coating services can be used for many types of materials, the most common application we see at US Metal Crafters is for metal parts, tubes, and products. Powder coating is an excellent alternative for coating components that are difficult to cover using traditional liquid coating methods. Other benefits include:
High durability and scratch resistance, leading to lower maintenance requirements

Color flexibility, when outward appearance is a high priority

Good resistance to wear for outdoor and industrial applications

Consistent thickness and coverage, even in hard-to-reach areas

Environmental friendliness — excess powder can be reused to eliminate waste

Cost-effectiveness over the long run due to the minimized need for re-application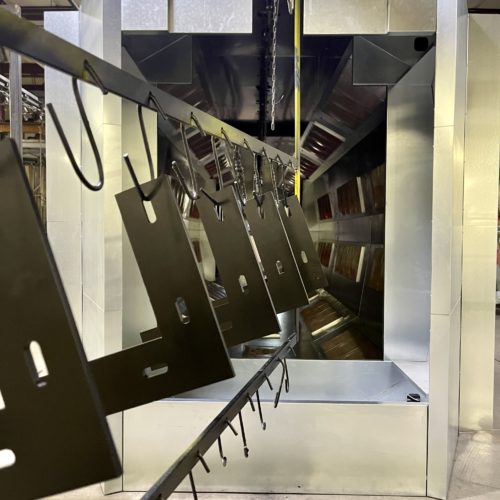 How Does Powder Coating Work?
Here at US Metal Crafters, we take great care in ensuring a high-quality finish from our powder coating services. Key steps in this process include:
Preparation.

Our skilled craftsmen carefully prepare the workpiece for the powder finish application. We clean, rinse, and dry the component to remove any contaminants, so the powder will adhere and coat properly. Our wash booth is EPA-compliant and recycles the water supply.

Application.

Once the surface is prepared, we typically apply the powder material via an electrostatic spray deposition, which causes the powder to adhere to the electrically grounded surface. We may also use a fluidized bed, where the component is preheated and then dipped into a bed of charged and fluidized powder.

Curing.

The final step is curing the piece in our Heraeus PLC Infrared Gas Catalytic Powder Coating Oven. The powder fuses with the surface to create a hardened outer coating. Our curing process is up to three times faster than conventional convection ovens, allowing us to drastically reduce turnaround time for client powder coating projects. 
A particular benefit of our Heraeus coating oven is that it features both perpendicular and angular heating panels, which means that we have a unique ability to accommodate angular and hard-to-target parts. The oven's perpendicular panels first provide even heat to the part. As the part reaches the angular panels of the oven, they then target the hard-to-reach areas. It is rare for a powder coating oven to have both panel types – the US Metal Crafters team is able to support our customers with diverse powder coating requirements.
Choose Powder Coating Services at US Metal Crafters
As a specialist in metal fabrication and metal forming, US Metal Crafters brings our diverse expertise and superior service to all powder coating projects. Our in-house facilities remove third-party delays and ensure on-time delivery of parts; our design-to-delivery capabilities ensure parts that meet even the most stringent specifications. We have a full spectrum of standard powder coatings available and can provide custom coatings in a matter of just days. 
With over 120,000 square feet of space, US Metal Crafters provides powder coating services for components varying in complexity. Our in-house powder coating services are just one facet of our vast fabrication, assembly, and finishing services, allowing us to serve clients of all sizes and from all industries with timely delivery and high-quality results. Contact us today or find your local US Metal Crafters representative to learn more about professional powder coating.