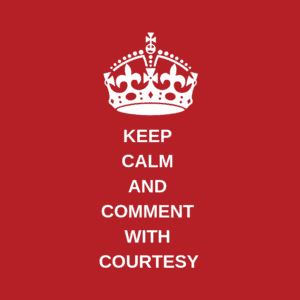 It's simple…really…just remember to keep calm and comment with courtesy when commenting on the US Metal Crafters "Not So Heavy Metal Blog". We not only welcome but love receiving comments and feedback about what we do here at US Metal Crafters and that includes the blog. If you've read some of the blog posts then you know I am currently on a journey to learn all things metal. There may be information that I left out or that maybe is not quite right or possibly even just plain wrong. Please feel free to comment with feedback or email me at meredith@us-metalcrafters.com and I'll get back to you as soon as possible!
You may or may not have already experienced this in your life but comments tend to have a way of breaking or making a day. With this in mind I have a few housekeeping rules to over to keep our metal crafting community from feeling like the pup below.
Be Polite. Comments containing language or concepts that could be deemed offensive will be deleted. Note this may include abusive, threatening, offensive, misleading or libelous language. Comments including profanity will be deleted.
Don't Spam. Comments deemed to be spam or solely promotional in nature will be deleted. Including a link to relevant content is permitted, but comments should be relevant to the post topic.
No Trolling -Keep the trolling for the fishes. Inflammatory remarks with the intent of provoking heated discussions will not be tolerated.
Follow these simple rules and we'll keep the "Not So Heavy Metal Blog" a warm and welcoming community for metal crafters and metal newbies alike. I mean how could you not feel all warm and fuzzy knowing that you've found the metal crafting corner of the internet you didn't know you were looking for. So let's keep it that way and comment on with courtesy!
And last but not least please share the "Not So Heavy Metal Blog" and posts to your favorite social media site or feel free to cite the blogs in your own articles.