At US Metal Crafters we house our very own Internal Tool & Die Forming Shop which allows us to shorten your development time on a variety of applications and customizations. US Metal Crafters has one of the most complete die shops in the southeast and is able to serve your die needs from design to lifelong maintenance. For more information on our custom tool and die forming services, or our CNC machining services, please see below or contact us for a detailed proposal or to discuss our capabilities.
IT's all in the design
Whether requiring a simple die or a complex part needing a progressive die, a perfectly stamped and formed part begins with proper die design. Maintaining continuous quality depends on proper die maintenance and sharpening. Quality parts that are delivered on time require that these services and more are provided in-house. Our extensive design and machine shop means that this is true for our dies. From concept to completion we can help with your metal crafting needs.
Key investments
Four trained die makers with an average of 18 years' experience and three assistants are all part of the dedicated team that will serve your tool and die-making needs. US Metal Crafters has made these and the below investments in machines in our commitment to exceeding customer expectations.
1- Mitsubishi MV 2400S-D EDM
4- CNC Mills
2- CNC Lathes
2- Engine Lathes
4- Surface Grinders
2- Bridge Ports
Dying to learn more? Below is some general information about the art of Die Crafting.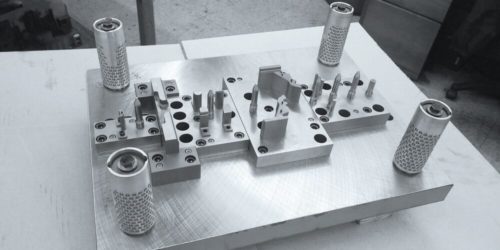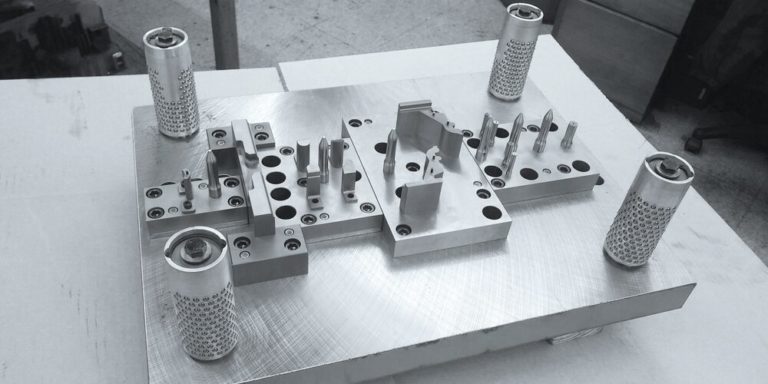 General Die Information
A die is a tool used to cut or shape material usually carried out on sheet metal but can also be used on other materials (Contact your US Metal Crafters Representative for details). Our die capabilities include tool and die design as well as manufacturing and maintenance.
The majority of our die jobs are progressive first using a punch then die block allowing the final form to include multiple modifications. The Progressive dies are commonly fed from a coil of steel, coil reel for unwinding of coil to a straightener to level the coil and then into a feeder which advances the material into the press and die at a predetermined feed length. Depending on part complexity, the number of stations in the die can be few or many.
---